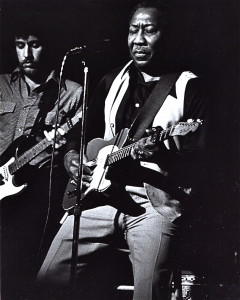 MUDDY WATERS — CAN'T BE SATISFIED by Bob Margolin
Published in Blues Revue Magazine, #20
Muddy Waters played the best music I ever heard, both generally, and on this specific occasion:Perhaps by coincidence, it happened in Reims, France, where they make Muddy's favorite champagne, Piper-Heidseick. It should have been just another show on a European tour in the mid-'70s. Muddy was in his 60's, but somehow on this night, for no apparent external reason, the years fell away. A powerful, passionate young man in his prime sang from his big heart about his hard life. He pulled off his picks, slipped into his slide, and tuned his guitar to Open-A, taking the Chicago Blues he pioneered a deep step back toward Mississippi. Using the full dynamic range of his cranked amplifier, from a breath to a roar, he held his own voice up with full-bodied, percussive runs that were rock-solid yet suggested swinging syncopation. His slide fills and solos were intricate, but raw and over-the-top both in volume and emotion.  Then he put his guitar down and began to sing "Two Trains Runnin'," a rare and very deep song choice. Luther "Guitar Jr." Johnson and I came in with Muddy's "Rolling Stone" guitar licks, as Jimmy Rogers and Little Walter had done on the original record. With the audience, the band followed the story in each verse and we were sucked into the depth of Muddy's singing. At the end of the verse where he sang,
Well they say she's no good, but she's all right
Muddy suddenly broke double-time and began to chant:
She's all right, she's all right
She's all right, she's all right
…over the band's jumping, one-chord pattern. But every time Muddy sang the line, he sang it more intensely. He put progressively more power and meaning into the same phrase, over and over. For ten minutes, he built steadily until it seemed like we would all explode. When he cut his arm down and ended the song, we were all dropped back onto the ground, to pick up the shattered pieces of our little lives and go on as best we could (Muddy told me that after performing that "She's all right, she's all right" blockbuster in the '50s, Ray Charles told him "I'm gonna use that!" Listen to the end of "I've Got A Woman.")
What kind of person can so powerful a musician be? I've been asked that constantly in interviews and by blues lovers ever since I joined Muddy's band right up until now. I've developed a stock (but sincere, concise, and informative) answer:
"Muddy was one of those very few who had true 'charisma.' He affected people in a spiritual way, both with his music and personally. I've had a lot of thrills while I was in Mud's band, but the biggest was playing his blues with him onstage."
I understood from the start that I was lucky to be part of a revival near the end of Muddy's career. Whenever I make music or write about it, there's always something in there that goes back to Muddy. I was around him intensively for almost seven years, and I'd like to tell you about some of my experiences with him, answering "What was Muddy like?" with more depth than my usual short and stocky answer.
Muddy was not one of those blues band leaders who just roll and tumble through the world. He was responsible, professional, punctual, very classy, and very self-aware. When Muddy invited me to join his band in August '73, I asked him if I could finish out the week's gigs with the local band I was with and not leave them hanging. Although Muddy wanted me to start immediately, he told me to go ahead, and that my attitude showed him that I would do right by him.
There was a short honeymoon right after I started where everyone was friendly and encouraging to me, but soon it was time to adjust a few problems I was having getting the feel of Muddy's "Delay Time," his extremely "behind-the-beat" rhythmic approach. Muddy used to say, "My music is so simple, but so few people can play it right." Muddy's idea of constructive criticism, however, was something like, "Don't ever play that again, it makes my dick sore." Once, he told me that a high note I played "sounded like someone stepped on a cat.
"Though he constantly warned that he was "too old to teach" anyone, I would invite myself back to his hotel room after the shows and try to get him to explain what I could do to avoid the dirty looks he sometimes gave on the bandstand. Before long, with Muddy's help and with deliberate stage position where I could watch Muddy play guitar closely, I began to learn how to give him what he wanted to hear. He could have given up on me and sent me on my way, but he knew how much I wanted to get it right, and I guess he believed that I could. He told, me, in sympathy, that trying to play his music would "hurt like being in love," and gave me a break that changed the rest of my life.
Muddy used to say that there were two kinds of players: those who are born talented, and those you can "build with a hammer and nails." I'm sure Muddy was the first kind, and though I may have a little talent and a lot of desire, I'm the second kind. I am indebted to the carpenter.
Right when I joined the band, Muddy moved from the South Side of Chicago to a house he bought in suburban Westmont, Illinois. I found myself laying up over days off when it was not worth it to fly all the way home to Boston. To save me hotel money, Muddy invited me to stay with him and his family. He was the patriarch, taking care of generations of relatives. Muddy loved to hang out in his kitchen, wearing a fancy robe or smoking jacket, and hold court, refreshed by the expensive champagne that he drank since his doctor warned him that whiskey was bad for his blood pressure. Muddy also quit smoking cigarettes "cold turkey" at this time (though ten years later, he was taken by lung cancer and heart problems anyway). He said that he "still wanted a cigarette every day," but he just stopped.
In his living room, I used to play Muddy's old songs on my portable cassette recorder just loud enough for him to hear them in the kitchen. Sipping champagne, he'd enjoy his songs (he said they were like "old friends") and then he'd come in and start pointing out parts to listen to, or telling stories about the recording sessions. You better believe I remember every word.
Little Walter was long-gone by then, but I idolized his harp playing. One time, listening to the original "Long Distance Call," Muddy scowled that Walter was overplaying all over his voice, but then smiled and admitted that Walter was so great that he could break the rules and make it work. He told me that when Walter first tried a chromatic harp on "I Just Want To Make Love To You," Muddy told him, "Don't rehearse on my session, motherfucker," but that he really liked Walter's eerie innovation when he heard the song played back. Jimmy Rogers told me that he and Little Walter pulled Muddy kicking and screaming into the "modern" '50s, and that Muddy kept them rooted in the deep blues.
Another time when I was staying at his house, I baited Muddy into giving me a guitar lesson. In his living room again, while he relaxed in the kitchen, I started to play "Can't Be Satisfied," which was my favorite song long before I knew I'd ever even meet Muddy. Immediately I heard a huge "Wrong!" from the kitchen.
Muddy grudgingly consenting to my fairly obvious manipulation, instructed me on how to play the guitar part to his song. He wouldn't pick up the guitar and show it to me, but he sang the corrections at me. As well as I thought I knew the song, there were subtle nuances I was missing that were critical to Muddy, and only he could point out. Finally I could play it through without him saying anything, and I could consider that I knew how to play the song right. It's still my favorite, and when I play it now, if I don't hit every lick exactly as he sang it to me, I'm "Wrong!" again.
Muddy, unlike most blues band leaders, gave his sidemen every opportunity to develop into front men. He said, "If you've got a star in the band, you've got to let him shine." I don't think it's so much that Muddy was non-competitive, it's just that he was very secure. As great as many of his band mates turned out to be, they could never upstage "The Old Man."
Consistently, interviewers and friends use the word "dignity" to describe Muddy, and it's appropriate. He understood his accomplishments and was proud of them and conducted himself in public gracefully but with reserve. In situations where he was with family or close friends, or having a particularly good time on the bandstand, though, he displayed a loose, good humor that ranged from playful to downright silly.
A person of lesser musical resources could not have done this, but Muddy had an endless supply of hot guitar licks and cool moves, and the imagination and inspiration to create new ones on the spot. He enjoyed pulling them out to spice up an old song, and then he'd look over at me to see if I'd caught it. I'd pretend to look away obliviously but then turn to laugh with him just when he'd figure I'd missed it. Of course, sometimes he just blew me away, and I'd be standing there flat-footed and open-mouthed, and he'd laugh "Gotcha!" I tried to get him back by copping blues licks and solos from very old records, sometimes Muddy's pre-Chicago songs. It was fun if I could make him double-take and open his eyes real wide, even make him blurt out onstage, "Where'd you get that, boy?!!!" I'd answer "Lonnie Johnson" or "Stovall" or just look innocent.
One hot summer night, we were playing at the original Antone's nightclub in Austin. In the crowd right in front of us, we appreciated two beautiful young women, dancing together and sweating, looking hot in many ways. Jerry Portnoy, our harp player, suggested helpfully to them that they take their blouses off, and they did. Now I was the baby in this band of middle-aged, experienced men. Between us, we'd seen hundred of breasts, so it was no big deal, right? Wrong! — we could hardly play for laughing and pointing. Funniest was Muddy's super-deep voice raising about four octaves, babbling "Look at those little titties bounce!" like Beavis and Butt-head on helium.
Another time Muddy had the band in his hotel room after a show, paying us, and somehow he digressed into a lecture on how to make love in a Model-T Ford. He explained how you had to have the girl stick her butt out the door while you got up on the running board to pump. Then he threw himself down on the bed, his own ass gyrating wildly, to illustrate. If this puts a funny picture in your mind, I promise you it looked even funnier.
Muddy's taste in music ran from deeper to deepest. He did not travel on the ground in the band's vans often, flying to any gig over 100 miles away from Chicago, but when he was with us, he'd reach his hand back over the front seat and say, "Give me my shit…" His shit was a cassette I'd made with Robert Johnson on one side and Jimmy Rogers, his beloved former sideman, on the other. While listening to Robert, he'd fast-forward through the ragtime songs like "Hot Tamales" and "Four 'Til Late" to get to the deep blues of "Kind-Hearted Woman" or "Terraplane." As we listened to Jimmy Rogers, "The Last Time," Muddy pointed out that what sounded like a double-tracked voice was really Jimmy and him singing in unison (if you listen closely, you can hear it). "I don't know why we did that," mused Muddy. "We should have sung it in harmony…" The song, with that unique vocal sound, remains a classic.
If the band wanted to tease Muddy, we could greet him with "Hey, Brother Man," instead of "Brother Mud." Though he was the employer by business arrangement, and the boss by Divine Right, he did not appreciate a friend bringing attention to this distance by calling him "the Man," an expression meaning the person in authority. To those of us in the band, he was a close and generous friend, and we maintained our friendships with him until the end of his life.
Muddy had more talent and depth than anyone else I've ever heard of or been around. Even if I was sure he was wrong about something, I would have to respect his opinion because it's likely that someone that deep could hear and feel things that the rest of us can't. Muddy was special, but he was human, and only one time, we got into it.
We had been touring Europe for about five weeks and we were playing in Copenhagen. We had been shipped around almost parcel post, but had to perform well every show. European promoters called us "The Iron Band." Nobody had found any female company on this hard tour, and toward the end of it, we were just burned out and wanted to go HOME.
Muddy suddenly turned on me that night. In the dressing room, he looked at me just sitting there, and demanded belligerently, "What the fuck is wrong with you?" After an uncomfortable show, during which he gave me a number of cold looks, he told me I was "lettin' down on the bandstand." I told him I was, as always, giving him my best and didn't know what I had done that bothered him, to which he replied, "Shee-it!" Back at the hotel, the band was silent going up the elevator to our rooms. I said to Mud, "I think we better talk," but he said, "I'm through talkin'!" Then, suddenly, he changed his mind and said, "Come on," and stomped off to his room.
We were nose-to-nose for a couple of hours. Muddy couldn't explain why he was mad. My best guess was that the problem was that road fatigue and sex-deprivation I mentioned. I told him that if I'd done something, it wasn't deliberate, and that I loved him and his music, and I would never mess with him. I eventually convinced him, but he let me know this by asking, "So what do you want me to do now, kiss your ass?" We cracked up and had a drink.
What would it take to fulfill your dreams? Fame and Fortune? Muddy was a recognized legend, and had enough money to live well. The satisfaction of having made it from the bottom to the top? Muddy had gone from the cotton fields to Carnegie Hall. He was deep and dignified and down-to-earth, and he was loved by his family, friends, and fans. He indulged himself with champagne, reefer, and young women (just like his song, "Champagne and Reefer"). Why was Muddy so special, even compared to other legends? From being close to him, here's what I think:
"Can't Be Satisfied" was not only his first song to "put Muddy on the road" — get him some recognition — but also a chronic feeling, a sad river flowing through his life. With all of his talent and accomplishments, I believe that a part of him always "be's troubled…all worried mind." One night, toward the end of my time in his band, I saw this very poignantly, and it still hurts me deeply to recall it.
We were in Woodstock, New York, and Muddy seemed very troubled. The mention of an uncomfortable business situation had upset him. He drank a little more than usual that night after the show, and the band got in his two vans for the ride back to the hotel. Muddy and I were in one of the vans with Luther driving, and Muddy's depression overtook him. With Luther and me, caring friends, he ran down a long list of things with health, personal life, and business that were going wrong and really weighing on him. It was heartbreaking to see Muddy so down, and to know that all of his success and greatness and the world's love couldn't comfort him. Of course he was coping fine by the next day, but his problems were real, and eventually they did get the better of him. Soon he did lose the band, and his health, and that is nothing less than tragic.
Though Muddy's spirit was very strong, seeing how much the world could hurt Muddy inside makes me guess that something that happened to him when he was young could have been a source of pain and soul for Muddy. His talent to express his blues shook the world though, and through his music, his pain eases ours. I think Muddy would have been famous no matter what he did — he said he could have been a preacher, and had been a pretty fair baseball player.
Our band was forced to quit Muddy over a business dispute with his manager in June, 1980. Muddy hit the road with a new band as much as his slowly declining health allowed. I lived near Washington, D.C. then, and had started my own band. Five months later I heard that Muddy was coming to town, so I called the club and tried to arrange to open the show. The booker knew that I had left Muddy and said he'd have to check with Muddy's management to make sure they didn't mind. They didn't, and Muddy later told me that he had been asked personally, and approved.
As always, but for the last time, playing in front of Muddy for me was like a kid trying to make Daddy proud. I closed my set with the early Little Walter tune "I Just Keep Lovin' Her" and when I came back into the dressing room, Muddy leaped up, put his hands on my shoulders, and said, "I haven't heard that song in 30 years! You're keeping the Old School alive!" It's the most valuable compliment I've ever had. If I'm keeping anything alive, I'm sure not the only one, but I'm glad that I made Muddy feel good — he did that and a lot more for me.
While my band and his were packing up at the end of the night, I was alone in the dressing room with Muddy, and we fell into a deep conversation. Muddy told me that it really took a lot of spirit out of him when his childhood friend Bo had passed a few months before, and that it hurt him bad too when our band left. He said, "When Little Walter quit me in '52, it was like someone cutting off my oxygen — I didn't know how I was going to play without him. But soon I realized I had to put the slide back on my finger and go out and be Muddy Waters." Near the end of his life, he was trying to do that again.
I told him I though it was wrong that he and the band didn't sit down and talk and straighten things out. We had been around the block and around the world together many times, were much more like family than boss and employees, and spent more time with each other than with our blood families. He just nodded slowly, looking old and sad. After a bit more personal conversation, my drummer set off the alarm on my van and I had to run outside to turn it off. I had a chance to say a quick good-night to Muddy, and I never saw him alive again.
I did, however, call him about once a month. Every time I talked to him besides catching up, I got a big shot of exhilaration from the contact Having spent so much time on bandstands with Muddy playing next to me, listening super-critically to my every note, I still feel like he's there, judging everything I play, and giving me special inspiration, and sometimes a smile, sometimes a dirty look. But I don't call him anymore.
The last time I called him was on his birthday, April 4, 1983. I knew Muddy had been off the road and that his health was failing. Muddy obviously had a strong, deep voice, but he always held the receiver far from his mouth, so that it didn't sound big on the phone. This time, there was a weakness or tiredness in his voice too, and he told me he was having "good days and bad days." I could hear him cover the phone and cough painfully. It hurt me too. I asked him if, since he wasn't doing gigs, he ever picked up his guitar and played at home. He said, "No, I've been playing 50 years, it's there. What's really strange is to wake up in my own bed every day after so many years on the road." After some small talk, something made my last words to him come out "Be strong."
That night, I went out to see John Hammond play. I told him that I'd talked to Muddy and that he was very sick, but hanging in. I saw John again sooner than I expected to, a month later at Muddy's funeral. His face had the saddest expression I've ever seen. To me, John's face represented the Blues World's feeling at Muddy's passing better than anything.
Of course Muddy's music is immortal, but for those of us who were blessed to know him it hurt to lose the man himself. They say "You can't take it with you," but Muddy took a lot of power and beauty out of the world with him , and there will never be another like him. As Muddy sang in Willie Dixon's "Young-Fashioned Ways,
"I don't worry 'bout no young un'
There'll be no one to take my place
At the Antone's nightclub anniversary week in 1990, I played a solo set of Muddy's songs in tribute to him, and to the club where Muddy played so many spectacular gigs. When I came into the dressing room, Buddy Guy told me, "Those are big shoes to fill…" Shit, I'm just trying to keep 'em shined.